Beautiful Birds on a Blue Background!!!

Now you will find short descriptions of each GIF (picture) available.
Click on the description and you will go to the GIF.
When you find a GIF you want to copy, right click on the mouse
to copy and paste it to your file directory.
Please DO NOT link to my page, as it will take forever to load the GIFs.

To return to this page, use your "BACK" button!!



two surprised blackbirds on telephone line (see above)
one blackbird flies down to join another on line // pretty yellow bird
two redbirds swap places on telephone line // beautiful blue bird flying
small bluebird flying // buzzard flying // chicken scratching for worm
very amusing Daffy Duck // pelican flies across the page
really unique ostrich (he takes forever to load, but worth the wait)
Tweety bird tries to fly (see below)


---
---
DISCLAIMER
To the best of my knowledge, none of these GIFs are copywrited.
If you happen to know one is, please email me and I will remove it.

---
If you will click on the birdhouse,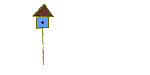 you will return to the Kritter's GIF page!!!

---
MAIN