BUNCHES OF BUGS AND BUTTERFLIES
This would not be complete without
GIFs of God's insects, who complete our world!!

Now you will find short descriptions of each GIF (picture) available.
Click on the description and you will go to the GIF.
When you find a GIF you want to copy, right click on the mouse
to copy and paste it to your file directory.
Please DO NOT link to my page, as it will take forever to load the GIFs.

To return to this page, use your "BACK" button!!

---
beautiful blue butterfly // pretty green moth // another blue butterfly
big purple butterfly // orange butterfly
big beautiful purple moth // dragonfly flapping wings
yellow cricket playing fiddle // big red lady bug

---

big black soldier ant // blue butterfly with pretty colored wings
pretty brown snail // orange butterfly flaps his wings
yellow butterflies flying (see below) // green/blue butterfly
pretty white moth flying // small purple butterfly flying (see above)
colorful butterfly flies across the page
green worm popping out of hole wiggling hands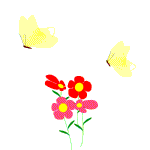 ---
---
DISCLAIMER
To the best of my knowledge, none of these GIFs are copywrited.
If you happen to know one is, please email me and I will remove it.

---
If you will click on the birdhouse,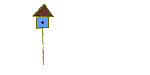 you will return to the Kritter's GIF page!!!

---