KEWL KREEPY KRAWLERS

No Kritter page would be complete
without crawling things like frogs, lizards, snakes, and even turtles.

Now you will find short descriptions of each GIF (picture) available.
Click on the description and you will go to the GIF.
When you find a GIF you want to copy, right click on the mouse
to copy and paste it to your file directory.
Please DO NOT link to my page, as it will take forever to load the GIFs.

To return to this page, use your "BACK" button!!

---
regal crowned green frog talking // pretty green frog dressed in tutu dancing

---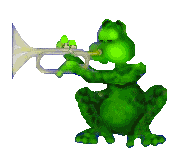 froggie playing horn (see above) // dancing froggie with tophat // froggie welcomes you
pretty green lizard // swimming turtle // strolling alligator // snake spells welcome (see below)


---
Now this following section features MOZILLA,
an alligator with an attitude!!

roping cowboy // magical genie // juggling balancing act // mountain climber
pogo stick progress // snake charmer charms tail
deep sea scuba diving // unicycling (see below)


lazy 'gator laying on a bar // 'gator getting a suntan
'gator in a tug-a-war // 'gator on water skis

---
---
DISCLAIMER
To the best of my knowledge, none of these GIFs are copywrited.
If you happen to know one is, please email me and I will remove it.

---
If you will click on the birdhouse,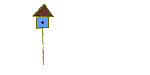 you will return to the Kritter's GIF page!!!

---