To Funny Fishes in a Deep Blue Sea
~~ Welcome Fish compliments of Lynn McKamey ~~

There are fishes and then there are FISHES!!
We hope you enjoy ours!!!


Now you will find short descriptions of each GIF (picture) available.
Click on the description and you will go to the GIF.
When you find a GIF you want to copy, right click on the mouse
to copy and paste it to your file directory.
Please DO NOT link to my page, as it will take forever to load the GIFs.


To return to this page, use your "BACK" button!!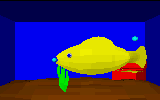 yellow fishie swimming in his tank (see above) // The Littlest Mermaid's Flounder
wittle fish jumping out of the water // purple fishie swimming around
big purple fish blowing bubbles (compliments of Lynn McKamey, AGAG)


~~ some of these GIFs are found on AGAG's site ~~
~~ Thank you, folks, for the loaners ~~

---
---
DISCLAIMER
To the best of my knowledge, none of these GIFs are copywrited.
If you happen to know one is, please email me and I will remove it.

---
If you will click on the birdhouse,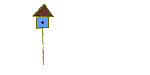 you will return to the Kritter's GIF page!!!

---