No GIF page would be complete without having
some of the funny, furry creatures that God
has given us to enjoy their antics.

Now you will find short descriptions of each GIF (picture) available.
Click on the description and you will go to the GIF.
When you find a GIF you want to copy, right click on the mouse
to copy and paste it to your file directory.
Please DO NOT link to my page, as it will take forever to load the GIFs.

To return to this page, use your "BACK" button!!

---
koala bear bursting out of box // mouse writing on paper
teddy bear dancing and waving // pink bunny rabbit waving (see below)


---

cute mouse wiggling tail (see above) // mouse moving in exercise wheel // funny pink mouse
brown mouse walking to mousehole // white mouse escaping cat's paw
cute hamster standing up, turning

monkey swinging from bar // monkey covering eyes

happy kangaroo hopping // donkey kicking the air // pretty horse
deer outlined in black box // brown bambi laying down

koala bear climbing tree // bear changing colors // brown bear dancing and walking

white bat flying // scarey bats flying towards you // black bat hopping up and down (see below)


---
---
DISCLAIMER
To the best of my knowledge, none of these GIFs are copywrited.
If you happen to know one is, please email me and I will remove it.

---
If you will click on the birdhouse,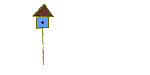 you will return to the Kritter's GIF page!!!

---