OF ALL SHAPES AND SIZES!!


Although Smiley faces are NOT Kritters,
I thought folks would enjoy them!


Now you will find short descriptions of each GIF (picture) available.
Click on the description and you will go to the GIF.
When you find a GIF you want to copy, right click on the mouse
to copy and paste it to your file directory.
Please DO NOT link to my page, as it will take forever to load the GIFs.


To return to this page, use your "back" button!!


BIGGGG smiley turns around // Chocolate Candy gives you a Smiley kiss
smiley becomes #1 Heart, (compliments of Gricci at AGAG.)
smiley nodding YES!! // smiley shaking NO!!




smiley has arrow in head (see above) // clown nose on this smiley
smiley wearing glasses // smiley wearing mask and hat // button with smiley and "OK" on it
a pirate smiley with eyepatch // purple smiley with rabbit teeth
smiley wearing sunglasses // upside down smiley face // green smiley making yucky face


a talking smiley face (see above) // this smiley changes expressions // large smiley face talks
he is blushing // smiley with bunny rabbit teeth // this big one made on computer keyboard
he makes a wierd face // a little bitty revolving smiley (see below)


---
---
DISCLAIMER
To the best of my knowledge, none of these GIFs are copywrited.
If you happen to know one is, please email me and I will remove it.

---
If you will click on the birdhouse,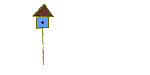 you will return to the Kritter's GIF page!!!