What is a Friend???


With all the Kritters hopping around our little corner of the net,
Kajun has discovered there are many kinds of friends!!!
But when Kuddly Koala asked Kajun one day,
"What is a Friend?", she did not have to hesitate in her answer!!
She told Kuddly that a friend is someone who loves you
no matter what you do, right or wrong!!
Someone who tells you if you are going the wrong way,
but also hugs you real big when you go the right direction!!


Kajun has found a poem that express better than she can
"what is a friend?", and hopes you will enjoy it
as much as she has!!


This has been borrowed from other folks,
and we appreciate the loan of these words and pictures!!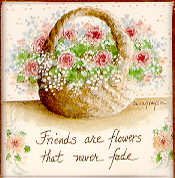 ~click on the basket for more info~

Cherished Friend!!
God must have known there would be times
We'd need a word of cheer
Someone to praise a triumph
Or brush away a tear.


He must have known we'd need to share
The joy of "little things"
In order to appreciate
The happiness life brings.


I think He knew our troubled hearts
Would sometimes throb with pain
At trials and misfortunes
Or some goals we can't attain.


He knew we'd need the comfort
Of an understanding heart
To give us strength and courage
To make a fresh, new start.

He knew we'd need companionship
Unselfish...lasting...true,
And so God answered the heart's great need
With a CHERISHED FRIEND....like you.

Author Unknown


Kajun and the Kritters call these folks FRIENDS

~Community Leaders at Geocities~
Catherine, Hilde, KT, LuvBeingAMom, Lisa (5geokids),
Wuzzle Bee, MI*GIRL, Pumkin, Cookie, Hilde, etc.

~Internet Friends from Sisters United and Silver Rose Society~
Katie, Lady Kali, Morning Glory, Meme, Minnie, Nanato9,
AngelEls, Sunnie, Clara-Dusty, Dixielady, etc.

~Bayou Internet Chat Folks~
Cin, Alien Angel, **Zimad**, Sandman, Silverado, Coda, Daedalus,
A Lee N, Azul, Red Soul, Nancy, Eric Draven, Wooley Goober,
Puzzle Freak, Lady Moreta, Lil Princess, Hippie, etc.

~"In Real Life" Friends and Family~
Vera Mae, Tigger, Wonder1, Doodlebug, Silver5, Easyana,
STOLN, THE CAT, ~~Lady Led~~, Budman, etc.

If I have left your name out, it was an unintentional mistake.
Please ICQ or email me and I will add it A.S.A.P.!!!! *LOL*


A Very Dear friend just sent me this thru ICQ,
and I felt led to share it with my friends online:

Why God Gave Us Friends

God knew that everyone needs
Companionship and cheer...
He knew that people need someone
Whose thoughts are always near.
He knew they needed someone kind
to lend a helping hand...
Someone to gladly take the time
To care and understand...
That's why God gave us friends

God knew that we all need someone
To share each happy day...
To be a source of courage
When troubles come our way...
Someone to be true to us
Whether near or far apart...
Someone whose love we'll always hold
And treasure in our hearts...

That's why God gave us friends.

~ Author unknown ~


---
---
DISCLAIMER
To the best of my knowledge, none of these GIFs are copywrited.
If you happen to know one is, please email me and I will remove it.

---
HOME