Pattie and I have known each other since the late 60's.
She moved in next door to my parents.
Being close in age,
we bonded as only single moms could do!

We both had a few relationships gone bad,
needless to say men were involved! *S*

We helped each other when we had problems,
although I feel she helped me more.
She was always there for me,
and I think she was so much wiser than I.


She was always the lady
my mother wished I was!!
If there ever was a true
SUTHERN lady, it was Pattie!
She had all the correct
moves and manners as described in the
Emily Post Etiquette Book of the 50's!
She could be a lady even
when dressed in at home-slouch!!

Pattie is the perfect personification
of a TRUE friend!!
Without friends our lives would be
hard to deal with
and very uninteresting!

Thank God for friends!!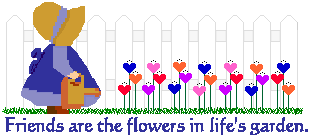 Though we might have lost contact
during some of our adventures,
we always came back together
when it was necessary for our mutual sanity!

Pattie raised three wonderful kids
through thick & thin:
Jimmy, Robin & Clay!!
She was always there for them
no matter what she had to do!

I can remember once when she was involved
in an auto-accident while her youngest
children were riding with her.
Although she sustained a neck injury
her mother adrenaline activated.
She took care of her young
children before she would let
a doctor treat her injuries.
She was truly a MOTHER indeed!!


Patty was always there to give
moral and mental support
to ANYONE who needed her.

She came to my support many times
above and beyond the call of a friend!
She always did what she could
for me and my children!

Until recently I was never able to help
her in monetary ways, but I did try to
help her in other ways. She always
unselfishly gave of herself, her time,
money and her ALL whenever I called
(in what I thought was my desperate need)!

In the last few years, because of the
love and support of David (my husband),
I was able to help her when she needed it.
The last time I visited her
she was asleep and I would not let
her live-in aide awaken her.
I left a new butterfly pin I had found for her.
I loved finding new butterfly things
she didn't have, which was
very hard to find any NEW items.
She really loved her butterflies!


Please bookmark this page, as I will add
more memories of MY BEST FRIEND!

Pattie, I love you and am glad
you are finally out of pain.
Remember when we talked about death
and how you were going to have
the pearly gates and St. Peter
ready for my trip to Heaven???
I will be up there, love,
and will always remember the good times.


This gold butterfly is for Gene,
who was always her special friend,
her "knight in shining armor"!!


Not only did he open his home and heart to her,
but also gave her every kind of moral
and mental support she needed,
including plenty of TLC.
Even though they had their disagreements,
he never stopped caring for her,
and was always there when she needed him.
Thank you, Gene, for being
the loving man you always have been.

---
HOME