to God's world
and Kajun's Kache of Kritters!!!
Won't you hop aboard my train,
and travel with me to visit with
all God's wonderous Kritters and Kreatures???
There are loads of neat pictures (GIFs)
that you can use on your own personal webpage!!

To the best of my knowledge,
ALL picures are PUBLIC DOMAIN (can be freely used)!
If you happen to see one that is NOT,
please email Kajun IMMEDIATELY!!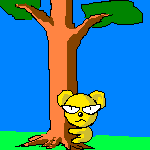 Watch out for that branch, Kuddly!!!
OUCH, I know that had to hurt!!

Let's see what kind of Kritters we have found.
I know there are some that don't bite, howl or bark!!
(Parents, they are all HOUSEBROKE, and they are FREE!!!)

















So, let's travel the highways and byways,
maybe a river, lake or bayou, too!!


To find a picture, click on a group below,
then enjoy looking!!!!

BEAUTIFUL BIRDS ON A BLUE BACKGROUND

BUNCHES OF BUGS AND BUTTERFLIES

FUNNY FISHES IN A DEEP BLUE SEA

SMILEY FACES OF ALL SHAPES AND SIZES

---
---
DISCLAIMER
To the best of my knowledge, none of these GIFs are copywrited.
If you happen to know one is, please email me and I will remove it.

---
If you will click
on my bag

of tricks,
you will return to the front page!!!