~~ Tribute to a SPECIAL friend ~~

It is with heavy heart,
that Kajun and the Kritters
do dedicate this page to our friend,
Kathleen Timmons, (aka KT, sweetums).

KT went to Heaven on the night of August 17, 1998.
She passed gently in her sleep.
Just as gently as she reached out to the
many hearts of those whose lives she touched.

KT could be a difficult taskmaster,
but she always tendered her instructions
with compassionate love.
She was a walking example of Jesus' love!!

Although we never met her IRL,
we knew her online for over a year.
She always had time to stop and help anyone,
whether it was online, in Enchanted Forest,
or wherever she saw a confused or troubled person.

She was always smiling, laughing
and in a wonderful mood,
except when her GOUT got her down!!*LOL*

She quickly gave of herself to
protect the children of Enchanted Forest.
As KT just recently told me:
"Everytime you scan a page you are helping a child
to remain innocent, and not have his childhood
removed by seeing a picture that is
sometimes even too adult for adults!"
This is from someone who loved children
not only in Enchanted Forest,
but everywhere in the world!!


My dear friend, today the Kritters
released a dozen of their heart balloons,
sending them on their way to Heaven for you!!

There is a new star in Heaven,
shining brightly to guide our way thru Enchanted Forest!
KT, luv, I (personally) will miss you immensely.
But, I can just see you up there at Jesus' side,
helping the newcomers feel at home in Heaven!!

With a sad heart, I send to you -
*HUGE MUSHY HUGS* -
with ALL my love!!

KT, my friend, my mentor, my strength,
and my shoulder to cry on,
please continue to look over my shoulder.

Goodbye, for now, my friend,
until we meet again in Heaven!!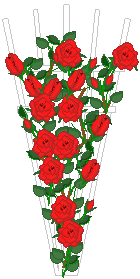 ~!~ QUOTES ~!~

Catherine:
"She would want to be remembered
for the love she shared with all of us.
She would want us to miss her,
but to go on and take care of each other and
the kids of the forest.
I cherish our friendship KT,
and will hold you dear to me as long as I live.
You are not forgotten and will always be loved
for what you have done by me."